Jurassic World: Dominion Dominates Fandom Wikis - The Loop
Play Sound
Calimero is the eponymous character of several animated series.
Creation

He was created by the animation studio Organizzazione Pagot for a series of animated advertisements (under the title Calimero - il pulcino nero) for Miralanza AVA soap products shown throughout Italy.
Animated series
Calimero had a series of 5-minute shorts made in Italy around 1970, which used some stories and colorized footage from the original ads, along with some new animation. Most of these involved Calimero trying to do something good but it usually backfired and usually ended with him saying his classic phrase, "E un ingiustizia pero!" (But it's an injustice!) in Italian, "C'est vraiment trop injuste!" (It's truly an injustice!) in French, or "It's an injustice, it is!" in English dubbed shorts.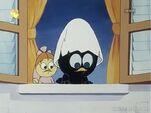 In the 1972 series, Calimero has basically the same appearance as his original Italian incarnation, though sometimes he appears a bit skinnier. He plays with his girlfriend, a yellow chick named Priscilla and Peter (Pierrot) the duck tries to mess with him. A lot of the stories somehow incorporate the original Italian shorts.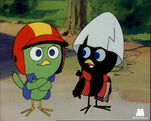 In this series Calimero wears a red vest and he takes on a more heroic role, where he, along with Priscilla and Peter/Pierrot (who became Calimero's friend in this series) investigate mysteries with the help of new friends, Giuliano (a green chicken, also known as Valeriano), Suzy (a bespectacled girl duck) and Rosita (a bespectacled girl chick, also known as Romi).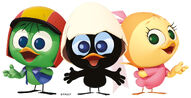 In the 2013 series Calimero (along with all other characters) is animated in CGI and does not wear a red vest, and he also appears shorter. He moves to a new town (called Belladagio in Italian and Hatchington in the UK English dub) , but he still plays with Priscilla, Valeriano, and Pierrot on a daily basis and they discover the amazing inventions in the Mill which belonged to Calimero's great-great-grandfather Do Vinci. Suzy and Rosita/Romi do not have main roles like they did in the 1992 series, but they are recurring characters in some episodes.