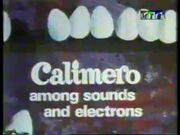 Calimero Among Sounds and Electrons is one of the original shorts starring Calimero.
In this short, Calimero plays in a band at Pierrot's house, but then he gets blamed for a power outage during which the Cocos steal everything from right under Pierrot's dad's beak.
The only version of this short currently available has a Macedonian voice-over, which unfortunately makes it hard to hear the English dialogue.