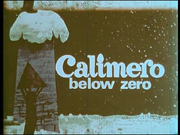 Calimero Below Zero is one of the original shorts starring Calimero.
In this short, Calimero wants to play with Pierrot and the other kids in the snow but they trick him into hitting their teacher (covered in snow) with a brick. Calimero then sees what a nice Christmas the others are having without him and he runs away.
This short is not currently available in English (or any language track, for that matter), but a silent version with Christmas music placed over it can be watched below.