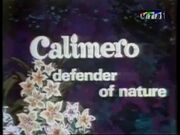 Calimero, Defender of Nature is one of the original shorts starring Calimero.
In this short, the principal of the school gets upset when Calimero and the other students mess up his flowers while playing ball. Later Master Owl teaches them about how nature should be preserved.
The only version of this short currently available has a Macedonian voice-over, which unfortunately makes it hard to hear the English dialogue.